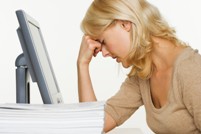 I live with my boyfriend of 3 years and for the past year, our sex life has steadily gone downhill.  We used to have sex 4 or 5 times a week... I don't expect that much now, and would be happy with 2 or 3 times a week IF he seemed into it.  I discovered about a year ago just how much porn he is looking at - it's every single day, sometimes 4 or 5 times a day, and he masturbates while he's watching it.  At first, I thought it was OK that he spent some time getting off to porn as long as we still had regular sex and he was satisfied by me.  By the way, he still says that he gets turned on with me and that I totally satisfy him sexually.
The problem is that when he started losing interest in sex, I started looking at his internet history.  I thought he might be cheating on me, but found out that he is not.  He started a job that is very close to home so he comes home for lunch every day, and gets home from work a couple hours before I do.  I found out that not only does he jerk off to porn every morning, but he also jerks off to it almost every day at lunch time, right after he gets home from work, and sometimes in the evening before I get home.  He also looks at porn every time I leave the house on a weekend (like grocery shopping). 
During this time, he has lost interest in having sex with me.  He will offer once a week or so, but it feels like it is a chore for him, which hurts me deeply and makes me feel rejected and unattractive.  I cannot compete with the endless stream of women he has access to online.  I chose my profile picture because she is his "ideal woman" - gorgeous face and body with HUGE natural breasts (I'm a D cup, but feel small compared to this!).  I also looked at his cell phone online history and have discovered that he also looks at porn on his phone, uploaded porn videos to it, and has lots of photos women with big tits.
He says he is always tired and that's why he doesn't want sex as much.  We mostly have sex on the weekend, but for the past two weekends, I have woken up early to find that he has slipped out of bed and is jerking off to porn in the next room.  All he had to do was roll over and I am lying there naked right next to him.  Yesterday I woke up and realized he was in the bathroom jerking off to porn on his cell phone because we had an overnight guest in the computer room.  It feels like a slap in the face to me and I'm losing my patience.  I feel like I am second choice next to porn and masturbation.  He seems to spend all his spare time thinking about, looking at, and jerking off to other women.  We have talked about this several times, but he just gets angry and defensive and says that I'm invading his privacy and overreacting.  I'm very angry with him right now and he doesn't seem to understand why.
Any thoughts or advice?  Am I being unreasonable to want more sex and less of his time and attention spent on porn?  I'm getting fed up!